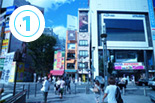 shinjuku station east exit you'll see STUDIO ALTA in front of the station.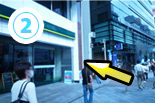 MIZUHO BANK is to the right of STUDIO ALTA.

Take the small street in front of MIZUHO BANK (walking away from the station) . Cross the big street (YASUKUNI-DORI) look for this arch next to Family mart.
In front of Family mart convenience store.